Main content
Mission, History and Governance
---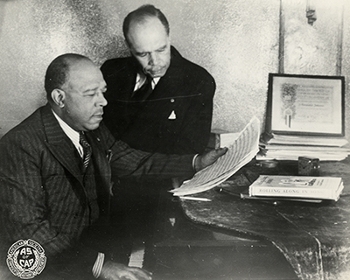 The James Weldon Johnson Institute was established at Emory University in 2007. Named for James Weldon Johnson, author, composer, educator, lawyer, diplomat, and pioneering leader in the modern civil rights movement, the Johnson Institute is the first institute at Emory University established to honor the achievements of an American of African descent.
Upon its founding, the mission of the Johnson Institute was to foster new scholarship, teaching, and public dialogue addressing the origins, evolution, and legacy of the modern civil rights movement from 1905 to the present. Today, the thematic focus of the Johnson Institute has enlarged to support scholarship and public engagement that examine race and intersecting dimensions of human difference including but not limited to class, gender, religion, and sexuality. We are interested in how systems of social distinction shape identities, modes of knowing, processes of inclusion and exclusion, and acts of representation. We also seek to foster a public dialogue on all aspects of African American life and culture within the expanding framework of the African diaspora. The richness and complexity of Johnson's own life calls us to this vital and urgent work.
The Johnson Institute actualizes its mission through the Visiting Fellows Program, the Race and Difference Colloquium Series, and Special Public Programs. Through its sponsored research and public programming, the Johnson Institute is one site within Emory University where members of the Emory community and Atlanta at-large are challenged to reflect upon and examine the shifting, complex meaning of rights, race, and difference in history, culture and civil society in both a national and global context.
In the tradition of call and response, a distinctive element in Black music and culture, the Johnson Institute cannot be what it aspires to be unless you participate. We wish to be in dialogue with you, and invite you to join our expanding circle of scholarship and social advocacy.
Governance
In active operation from 2007 – 2013, The National Steering Committee was an important feature of the governance structure of the Johnson Institute. Composed of leaders in the academy, the arts, commerce, and civil rights, the National Steering Committee provided guidance to the Director of the Johnson Institute in several vital areas. As both advocate and counselor, the charge of the National Steering Committee was to raise national awareness of the mission and programs of the Johnson Institute; to raise funds to provide ongoing and future support of the Institute's various programs; and to nominate individuals for the Johnson Medal.
The Johnson Institute recognizes the following individuals for their dedicated service as founding members of the National Steering Committee:
Julian Bond (Deceased)
Former Chair of the Board, the NAACP
Dr. Rudolph P. Byrd (Deceased)
Chair of the National Steering Committee, Emory University
Dr. Johnnetta B. Cole
President Emerita of Spelman College and Bennett College for Women
Dr. Henry Louis Gates, Jr.
Professor and Director of the W.E.B. Du Bois Institute at Harvard University
Ingrid Saunders Jones
Senior Vice President, The Coca-Cola Company
Mildred Bond Roxborough
Senior Advisor, the NAACP
Dr. Beverly Guy Sheftall
Professor and Founding Director of the Women's Research and Resource Center of Spelman College